by Hazel Ryerson, CAPS | Job Caption/Project Designer
I've been a fan of Lawrence Halprin since coming across, "Cities" in grad school. "Cities", written in 1969, is a catalogue of the basic elements of a successful city. Each element, for example, "moving water," is accompanied by multiple photos of fountains and water features with short captions describing the positive impact they have on the city. The book serves as an inspirational manual for creating lively city spaces.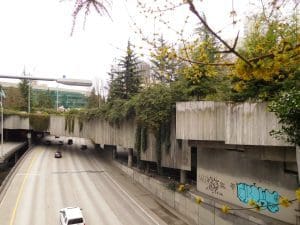 I finally came across a Lawrence Halprin design in person for the first time in Seattle. Josh Safdie and I were in Seattle teaching the last of nine Aging-in-Place Charrettes with Enterprise. The day before the charrette I took a rainy walk in downtown Seattle and bumped right into Freeway Park which I immediately recognized for its brutalist concrete geometry.  Even though I had seen photos of the park before, it was not until I walked through the entire park from end to end did I realize that "Freeway Park" is an accurately named highway overpass.  It connects the downtown financial district of Seattle with First Hill across the I-5 Expressway. But it feels like a park, with joggers, dog walkers and the mossy green vegetation that is all over Seattle.
The charrette the next day went well, it was the final charrette and Josh and I really knew our material. We had already facilitated three charrettes in Boston, as well as New York, Chicago, Detroit, Miami, and New Orleans.  These charrettes are full day events where designers, building managers, community development corporations, service providers, residents and policy makers (to name just a few) get together and hash out their agreed upon priorities for making a particular building meet the needs of an aging population.
Enterprise developed a took kit for these charrettes that includes design guidelines, checklists and recommendations. The nine charrettes that KMA facilitated were Enterprise's way to pilot these new tools.
At the charrettes we discuss everything from where to locate light switches to strategies for encouraging residents to add a little more exercise to their day. Taking care to get these details right matters, it helps people "age-in-place" or live independently and comfortably for longer. These are the elements of the physical environment that we have the opportunity to get right.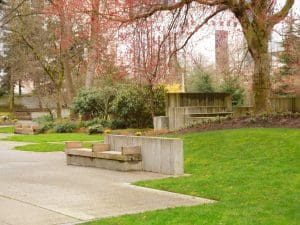 Every charrette is different, and every city provides a different perspective, but one theme that came up again and again was the challenge of how to help aging residents stay connected to a larger community. This is not something that can be solved with a checklist, it is more than the sum of multiple good design decisions. The logistics of aging, grocery delivery, good light in the kitchen, and visits with an onsite nurse, are all much needed and necessary, but community is the holy grail.
Freeway Park is an example of going beyond the elements of a logical solution to create something new and valuable. Instead of simply getting people from one side of the highway to the other while they grit their teeth, Freeway Park creates an altogether new destination and connects the two places. This is what I want for myself as I get older: my baseline expectation is an apartment where I can independently use the bathroom, cook my meals and entertain my friends and family, but what I really want is to live an engaged, purposeful life as a member of my community.