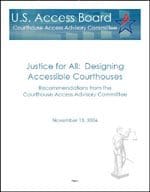 The Courthouse Access Advisory Committee issued its final report and recommendations – Justice For All: Designing Accessible Courthouses. Katherine McGuinness served as an active participant on this committee which met quarterly for two years (and has the plaque and mug to prove it!). The report includes recommendations for:
Design solutions to meet minimum ABAAG and ADAAG standards
Best practices for accessible courthouses
Outreach and educational strategies for disseminating this information
You can find the report, free, at the Access Board's website. Committee Members visited many courthouses nationwide, among them the John Adams Courthouse in Boston, MA. The recent renovations to this courthouse (CBT Architects, Inc.) demonstrated many of the report's best practices for accessible design.