by Stéphane Pierre Louis | Intern Architect/Access Planner
What is accessibility in Haiti?
The Haitian people are known as a resilient people, primarily because a lack of resources forces people to find ways to deal with what is, or should I say what isn't…  Being a developing third world country, the vast majority of people are born in harsh situations which may cause short or long term physical disabilities they aren't able to properly care for.
Handicap International was established in Haiti in 2008, working mainly in orphanages, but accessibility remained a foreign term in Haiti for a very long time.  After the earthquake of January 2010, Haiti was dealing with an increased number of the population who, 1) had lost their vision due to ocular trauma from being trapped under the rubble/in dust for days; or 2) had lost limbs and/or the physical capabilities they once had.  Integrating accessibility in new designs in Haiti became a pressing issue.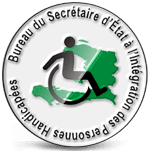 At the time, and until recently, the Secretary of State for the for the Integration of People with Disabilities was Gerald Oriol, Jr., a quadriplegic from the higher economic class in Haiti. Oriol was in a unique position to have his voice heard by the local authorities and consequently be the voice of a historically stigmatized group.  Under the direction of the Secretary of State, new construction, renovations, and consulting emerged that focused on accessibility.  On March 13th, 2012, the Haitian Senate, accompanied by different international organizations, voted into effect the first law in favor of people with disabilities. Enacting this law was the first step toward new projects, groups, and efforts, all directed towards creating an inclusive society not only in design but also in social activities.
On December 3rd, 2012, Haiti celebrated its first official "International Day of People with Disabilities": it consisted of a sale-exposition of artifacts made by disabled people, a solidarity walk of about 15 miles, a soccer game in collaboration with the Haitian Association of Amputee Soccer, and various other activities involving people with disabilities.  Highlighting disabled citizens' talents and their abilities to engage in physical activities not only shone a light on the large number of people with disabilities living in Haiti but also gave them a platform in a society that simply did not know how to deal with their disabilities.
On last year's "International Day of People with Disabilities", I saw multiple friends showcase beautiful pieces of clothing on Instagram created by a disabled woman, with the hashtag #InternationalDayforPeopleWithDisabilities.  It warmed my heart to see this had become a trend in Haiti; not the "hashtagging" movement but supporting and showcasing people with disabilities.
As a young professional evolving in a firm that specializes in accessibility and universal design, it makes me want to share all of what I'm learning with my homeland, and join forces with the people who have begun the movement in Haiti.  I look forward to seeing KMA involved in access consulting in projects in Haiti and finding ways to invite KMA as guest speakers into the design colleges for workshops and/or conferences.  I believe it would be efficient to start at the educational level: instructing architecture/design students the importance of, and how to integrate, accessible/universal design into their projects.  In this manner it becomes habit to make a facility accessible; it isn't just what is left to do in a project if there is extra budget.
Links of Interest:
Office of the Secretary of State for the Integration of People with Disabilities (BSEIPH)
Coverage of the Haitian National Amputee Soccer team